Blackpool Airport to reopen as airfield for small aircraft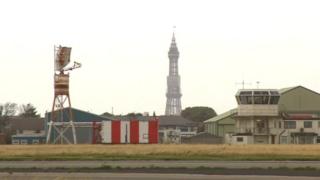 Blackpool Airport will reopen for small aircraft and helicopters but will not serve commercial passengers.
A company called Squires Gate Airport Operations Limited was incorporated six days ago at site owner Balfour Beatty's offices in London.
The company is advertising for air traffic controllers and other staff to work at the airport from December 1.
They will be part of a new operations team supporting independent operators and businesses at the site.
Balfour Beatty closed the airport last month after failing to secure a buyer, with the loss of about 100 jobs.
A spokesman said: "Following the airport closure, we announced our commitment to develop a sustainable future for aviation services at Blackpool Airport. Today is the first step in that process.
"Squires Gate Airport Operations Ltd will support the return of independent aviation businesses to Blackpool, including Bond Offshore Helicopters.
"We look forward to working with the local councils and other stakeholders as we seek to ensure a long term future for flying in Blackpool."
Bond Offshore Helicopters operates services to oil and gas rigs in the Irish Sea.
£35m debt
Blackpool Airport Ltd, the Balfour Beatty company that ran the airport, owes creditors about £35m, a report by liquidators shows.
External companies and groups are owed £2.1m, including £10,500 to Blackpool Council and £168,672 to Fylde Borough Council.
The staff redundancy bill totals more than £4.3m but the report estimates that only £528,244 will be available to pay towards this cost.
The government will have to cover outstanding staff costs from the National Insurance Fund.
Balfour Beatty faces a loss of around £19m.
The company in charge of liquidation, Zolfo Cooper, revealed around £28.6m of the debt is owed to other Balfour Beatty companies.
But this can be offset against other internal funds, meaning the final cost to the company is reduced to £19m. Balfour Beatty declined to comment on the figures.
The report estimates Blackpool Airport Ltd's assets are £562,193.
This covers the amount owed to preferential creditors and the remaining £528,244 will be put towards paying unsecured creditors.
But this would leave outstanding debts totalling £34.5m not covered under the settlement outlined by liquidators.