Gillathon: BBC's John Gillmore's interview world record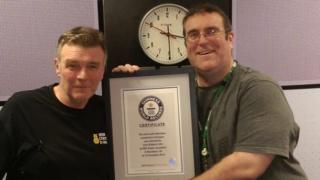 BBC Radio Lancashire presenter John Gillmore has broken the Guinness World Record for the most radio interviews conducted in 24 hours.
The presenter did 293 interviews during the "Gillathon", in aid of BBC Children in Need, starting at 15:00 GMT on Wednesday.
The next 24 hours saw him ask 1,649 unique questions to girl guides, a choir, and members of a jujitsu club.
The previous record was by an Italian radio station that did 256 interviews.
Hedgehogs at 4am
Mr Gillmore, who has been a presenter with the station since 2005, said the experience was "absolutely brilliant".
"I can't believe it, it's amazing," he said. "I was nervous, I'd had sleepless nights in all honesty, but hundreds of people turned out for our interviews, including a man who looks after hedgehogs who was with me at 4am.
"I've had a great day and I couldn't have done it without producer Garry Scott who had this mad idea in the first place."
Guinness World Records adjudicator Anna Orford said it had been "an absolute pleasure" to be involved.
The final interview for the challenge was with North West Tonight presenter Roger Johnson, who said: "I can't believe, after 24 hours at the mic, Gilly was still asking clear and insightful questions.
"It's a brilliant achievement for a wonderful cause and I hope his record stands for a very long time."