Blackpool and The Fylde College to be national fracking college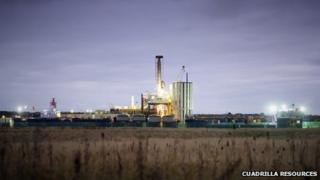 Blackpool and The Fylde College (B&FC) has been named as the national training centre for the fracking industry, the government has announced.
Mathew Hancock, Minister of State for Business, Enterprise and Energy will reveal details in a visit to its Bispham campus later.
It will serve as the UK hub for the National College for Onshore Oil and Gas, the minister said.
Other colleges around the country will serve as "spokes" for the hub.
The college will deliver advanced qualifications, up to and including honours degree programmes, for engineers and technicians.
It has provided training for the offshore oil and gas industry since the 1970s.
'Hub privilege'
Bev Robinson, principal and chief executive at Blackpool and The Fylde College said: "Crucially, this will drive long term investment in the region, meet the demand for highly skilled labour and secure local jobs.
"To be named as the hub for one of the national colleges is a privilege."
Hydraulic fracturing, or fracking, is a technique designed to recover gas and oil from shale rock.
It involves a process of drilling down into the earth before a high-pressure water mixture is directed at the rock to release the gas, or oil, inside.
Green objections
But the announcement was criticised by the north west branch of Friends of the Earth.
Its regional campaigner, Helen Rimmer, said: "The north west deserves investment in jobs and skills, but this should be in energy sectors of the future such as tidal, wave and solar which the region has in abundance - not dead-end fossil fuels.
"Energy experts have revealed today that the government has completely oversold the benefits of fracking."
There have been demonstrations in Lancashire, Greater Manchester and West Sussex where potential reserves have been identified and test drilling held.