Plan to redevelop Frontierland site in Morecambe approved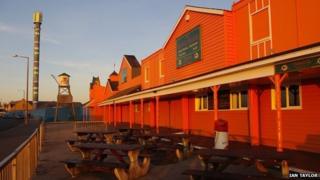 A £17m plan to redevelop the old Frontierland site in Morecambe has been given the go-ahead by city councillors.
The Wild West-themed amusement park site on Marine Road West has been derelict since it closed in 2000.
The proposal for a new retail and leisure park submitted by landowners WM Morrisons in partnership with Opus Land North also includes a hotel and pub.
Designer Wayne Hemingway who runs the Morecambe Vintage Festival said the plans were "vague" and "disappointing".
MP for Morecambe and Lunesdale David Morris who backed the plan said it will bring more people to the area.
'Windswept carbuncle'
Frontierland which was run by Blackpool Pleasure Beach Company was opened in 1987.
The Polo Tower, a remnant of the theme park, will be demolished under the redevelopment.
Mr Hemingway, who is from the resort, said: "The landscape and spaces should be places that people want to linger, to sit and take in the views and the air... and be inviting, even when it's blowing a gale.
"The public domain they are showing is so vague and lacking in detail it could end up just looking like a windswept carbuncle; very much like the current Morrisons area is now."
Lancaster City Council approved the planning application and it will now go to the Secretary of State for final approval.
A previous scheme to build a factory outlet on the site fell through, shortly after Frontierland closed.