First beach huts planned for Blackpool seafront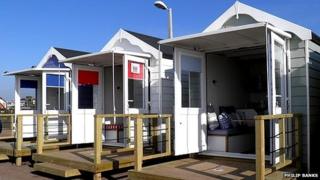 Seafront beach huts are to be built in Blackpool for the first time in the resort's history.
The council was approached by a private trader who felt the huts would be successful on the seafront.
Graham Cain, cabinet member for leisure and tourism, said businesses have been invited to submit tenders by next Thursday's deadline.
The successful bidder will get a five-year licence to build and manage five huts on the promenade.
The huts will be placed on the headlands - one of five sections of the sea front which have been remodelled - near Waterloo Road in the south of the resort.
"It's a proposal that we think could prove extremely popular," said Mr Cain.
"People will be able to rent out the huts for a day and use it as a base to go and enjoy our award-winning beach, as well as the attractions and businesses nearby," Mr Cain added.
'Sun chalets'
Claire Smith, president of hoteliers group Stay Blackpool, welcomed the plans.
"That area needs all the help it can get," she said.
And she added: "The council built five headlands but the funding ran out before they were completed."
Unlike neighbouring Fleetwood or St Annes, Blackpool has never had any beach huts, said Tony Sharkey of Blackpool Library's local history department.
"The nearest we came was in the 1930s, when a single block of seven sun chalets was opened on the Promenade at Little Bispham at the northern end of Blackpool."