Eric Morecambe Day plan proposed in comic's home town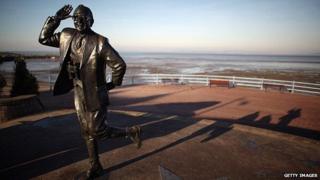 Plans for an "Eric Morecambe Day" and a sculpture of him with comic partner Ernie Wise have been proposed after his statue in his home town was vandalised.
The Marine Road Central statue was removed after the 11 October incident.
Jim Cadman, who will lead the project to create the two new tributes, said the vandalism had become "a springboard for further celebrating Eric's memory".
A public meeting on Wednesday put forward the new ways to "achieve a last legacy for Morecambe's favourite son".
Mr Cadman, business partner of the statue's sculptor Graham Ibbeson, said the "galvanising effect the attack has had in the local community [and] nationwide has been truly inspirational.
"There seems to be a great willingness to use this as a springboard for a way of further celebrating Eric's memory and the joy he brought to his millions of fans."
He said he wanted to "involve the local community at all levels because it's only through their enthusiasm and support that we can achieve a last legacy for Morecambe's favourite son".
If it gets funding, which Mr Cadman said would come from independent sources and fundraising events such as a celebrity auction and a variety show, Eric Morecambe Day could be celebrated in July 2015.
No completion date was given for the plan for a "life-size bronze wall relief of Eric and Ernie" on the town's promenade.
The ideas have been backed by Eric's son Gary, who said they were "in a word, fantastic, and in two words, really fantastic".
"We all love the idea of an Eric Morecambe Day and the family will make sure one or more of us is there to celebrate with the people of Morecambe," he said.
The vandalised statue, which was unveiled in 1999 by the Queen, will be repaired and reinstated, with the costs paid by Lancaster City Council and its insurers.
A man has been detained under the Mental Health Act following the attack.
---
Eric and Ernie
Eric Morecambe was born John Eric Bartholomew in Morecambe in 1926. Ernie Wise was born Ernest Wiseman in 1925 in Leeds
After Bartholomew and Wise failed to draw in crowds, Eric also decided upon a stage name. Choosing the name of his home town, Morecambe and Wise went on to entertain audiences for decades
Their 1977 Christmas special was watched by over 27 million people, more than half the UK population at that time. The Queen herself is believed to have tuned in
Eric Morecambe died on 28 May 1984 after collapsing on stage with a heart attack shortly after his 58th birthday. Ernie died in 1999, a few months before the statue of Eric was unveiled
Source: BBC Entertainment