Edge Hill University: Unique centre for animal research opens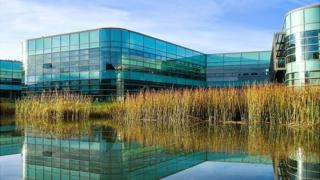 A unique research centre which examines the relationships between humans and animals has been launched.
The Centre for Human Animal Studies (CHAS) is the first of its kind in the UK and is based at Edge Hill University in Ormskirk, Lancashire.
The CHAS will bring together scholars from several disciplines including arts, humanities and natural sciences.
They will examine human-animal interaction and its implications for wider society.
Dr Claire Molloy said one example would be looking at why some cultures eat certain animals, while others keep them as pets.
'Changes in society'
Ms Molloy, the centre's director, said: "It's very exciting. We're really interested in what happens when you put animals at the centre of these various questions.
"It's to see if there's a possibility for changes in society - changes to policy, ethical changes, social changes, cultural changes.
"We have animals as pets, working animals, animals as food. And we also might consider the symbolic interactions we have. Animals are everywhere - they're in our film, television and literature."
An inaugural conference at the university on Saturday will bring together scholars and guest speakers from around the country.