Blackpool Pleasure Beach: New £2m 'Red Arrows' ride planned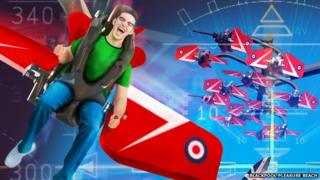 Blackpool Pleasure Beach has unveiled plans for a £2m 'Red Arrows' ride.
The amusement park has joined forces with the Lincolnshire-based RAF aerobatic team for the 'Sky Force' ride which is due to open next spring.
Blackpool Pleasure Beach said guests will control their own 'plane' and take a 360° tour of the skies in the 22m (72ft) high ride.
The ride will be built next to the Big One, described by the park as the UK's biggest and fastest rollercoaster.
---
50 years of the Red Arrows
The Royal Air Force Aerobatic Team, known as the Red Arrows, is based at RAF Scampton in Lincolnshire
The RAF had several aerobatic display teams in the 1950s and 1960s, but decided to disband them and form a single, full-time professional team
The team's first season was in 1965, and the 50th season has been celebrated in 2014
---
Blackpool Pleasure Beach's deputy managing director Nick Thompson said they were the first amusement park in the UK to work with the Red Arrows.
The RAF aerobatic team's squadron leader Ruth Shackleton said her team was thrilled visitors would get a permanent "Red Arrows experience", and that people would learn more about their work.
The 50-year-old aerobatic team are regulars at the annual Blackpool Air Show which Visit Blackpool said attracts around 60,000 spectators.
Blackpool hosted its first air show in 1909, the same year Frenchman Louis Bleriot became the first person to fly across the English Channel.