EDF Energy has Heysham 1 and Hartlepool reactors reduced power plan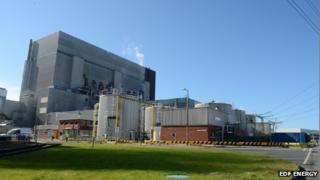 Two nuclear reactors that were shut down for safety reasons could be back online - but at a reduced power to prevent cracks, EDF Energy said.
The reactors at Heysham 1 and Hartlepool power stations were shut in August following a routine inspection.
They could return to service at 75-80% power because defects such as that found at Heysham 1 "can only develop into cracks at very high temperatures".
The phased return could begin between the end of October and December.
The dates will also be subject to approval from the independent nuclear regulator, the Office for Nuclear Regulation (ONR).
'Boiler spine defects'
An EDF energy spokeswoman said: "EDF Energy has identified and proposed a return to service strategy and is in discussion with the ONR regarding the acceptability of our approach."
Each power station has 16 boilers supported by a boiler spine component, where the crack was found.
"As boiler spine defects can only develop into cracks at very high temperatures, two reactors at Hartlepool and one at Heysham 1 could be returned to service at c75%-80% power to reduce the temperature to which the boiler spines are exposed," the spokeswoman said.
There will be planned maintenance periods in 2015 and 2016 to allow the reactors to be returned to full power.
EDF Energy said boilers affected by the defect at Heysham 1 would be isolated to allow the reactor to return to service.
"The required modifications to allow its other boilers to operate at full power will be made before the reactor is returned to service.
"This reactor will initially return to service at the end of this year at 75% power, with work done on the isolated boilers during 2015 to raise power further," the EDF Energy spokeswoman said.
Last month, National Grid announced it was seeking emergency supplies of electricity this winter.
It cited concern over potential shortages of power.