MH17 crash: Funeral of Glenn Thomas held in Lancashire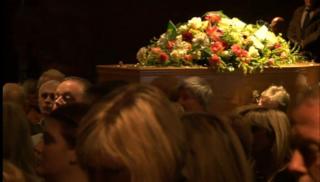 Hundreds of people have attended the funeral of a man who died in the Malaysia Airlines flight MH17 air crash in Ukraine.
Glenn Thomas, who was 49 and originally from Blackpool, was one of 298 people killed in July when the Boeing 777 from Amsterdam to Kuala Lumpur came down.
The humanist service at the Lowther Pavilion in Lytham included a one-minute silence for all of the victims.
His twin sister Tracey Withers said it was a "celebration" of his life.
During the service a candle was lit for Mr Thomas by Ms Withers and his partner Claudio Manoel Villaca-Vanetta.
A tribute was read by his nephew Jordan Withers, who said: "My thoughts can be summed up by this quote: 'If I had a flower for every memory I have with you, I could forever walk in my garden'."
Other tributes came from his best friend Steve Manion, and Christy Feig, director of communications at the World Health Organization.
Colleagues described Mr Thomas as "a wonderful person and a great professional" after his death was confirmed.
Later, a horse-drawn hearse led the cortege to the Park Crematorium in Lytham.
---
Analysis: BBC Radio Lancashire's Steve Becker
It was a memorial service... and yet a celebration as well, as Glenn Thomas's family had requested.
Where else would mourners hear 'Ernie, The Fastest Milkman In The West'?
It was chosen to reflect his eclectic musical tastes after his nephew Jordan Withers recalled him playing it in his open-top car as they sped along the Blackpool prom.
Around 200 people from around the world attended the service, including officials from the World Health Organization in Geneva where Glenn was a press officer.
Communications director Christy Feig told the audience: 'He lived life so fast it was as if, on some level, he knew his life was going to be cut short.'
That drew a round of applause, followed by others as tributes recalled a warm, generous traveller who remained "a Blackpool lad at heart".
Glenn's twin sister, Tracey Withers, and her daughter Brittany, concluded the poems at the service with one written especially for the occasion, in which the first-line letters spelled out Glenn's name.
It ended: 'A comforting feeling it gives to me / Sadly this was your destiny'.
---
'A wonderful person'
Mr Thomas, who lived in Geneva, was one of 10 people from the UK who died in the crash.
He was travelling to Australia for an Aids conference in his WHO role when the plane came down.
Dutch experts say the aircraft broke up in mid-air but there was "no evidence of technical or human error".
Mr Thomas had worked as a journalist for the BBC and Granada before moving to Switzerland.
Aziz Rashid, head of the BBC in the North West, worked with him at the BBC.
He said: "I've heard from people who remember Glenn and they said a lot of similar things - they remember his smile, his kindness, and his professionalism.
"They remember him talking about his family with great affection, and about Blackpool - he was always trying to persuade people to come to Blackpool. I wish I'd gone for a weekend in Blackpool with Glenn - I know it would have been fun.
"Richard Porter, head of BBC World News, says Glenn was a very nice, kind man who was popular with his colleagues. He was a sincere and hard-working producer, who took his work very seriously. He had a particular interest in international affairs, so it wasn't a surprise that he ended up moving from the BBC to an organisation like the WHO."