Blackpool airport owner should have done more, says council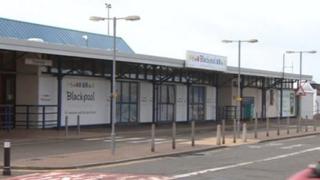 Budget airline Jet2 and the owners of Blackpool Airport have been accused of not doing enough to save it.
Blackpool Council blamed the airport's "onerous contract" with Jet2 and a failure to bring in new routes.
The airport's closure was confirmed by owner Balfour Beatty last week with the last flight out due on Wednesday.
Jet2 claimed the firm lacked "investment and drive", following its takeover of the airport in 2008. Balfour Beatty declined to comment.
"This parting was somewhat inevitable and we want to place on record our frustration that more has not been done by Jet2, in particular, to make the airport work for all parties," said Councillor John Jones, cabinet member for highways and transport.
'Interest remains high'
"It is pretty clear that we have a situation where a successful airline is operating in an unsuccessful airport.
"Jet2 have been operating profitably, while the losses at the airport have been around £2 million per annum."
He said Balfour Beatty failed in a court case to reduce the "extremely onerous" contract with Jet2 which had very high fixed costs and could not be sustained.
Balfour Beatty confirmed the airport's closure on 7 October.
Mr Jones said the council confirmed in a meeting that "interest in the site remains high with a number of parties expressing an interest with a range of proposals".
"We also feel more could have been done by the airport operators to try to bring in new routes and airlines," he said.
A statement from Jet2 said: "The agreement between ourselves and the management at Blackpool Airport, was signed in 2005 and was entered into very enthusiastically by both parties.
"There followed several years of very successful partnership, growth and trading. However, when Balfour Beatty took over; the investment and drive was noticeably lacking."