No porridge for 'Goldilocks' intruder who burgled Nelson home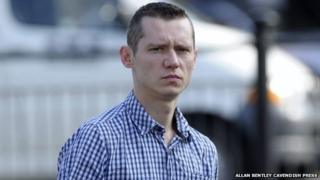 A couple from Lancashire returned from their holiday to discover a burglar fast asleep in their bed.
Martin Holtby and Pat Dyson were amazed to find the intruder had done the washing up, bought some food and even washed his own underwear.
Lukasz Chojnowski, 28, was given a two-year conditional discharge and ordered to pay £200 costs at Burnley Crown Court after admitting burglary.
Ms Dyson said: "It was a bit like [Goldilocks] and the Three Bears."
"Although he was more like Baby Bear," she added.
The retired couple first realised something was amiss when they opened their front door to find their post and newspapers had been moved from the doormat.
Ms Dyson said their house "wasn't too tidy" when they went away and discovered that Chojnowski, who is originally from Poland but now lives in Leeds, had tidied up.
She said he had made himself some meals, washed his socks and underwear, and had done a grocery shop.
Ms Dyson added: "He did burn an old saucepan but that happens!"
Mr Holtby said they were not threatened by their uninvited guest.
He said: "I wasn't frightened, more surprised, and I knew I had to take control of the situation."
He said he rang police and Chojnowski was still asleep when officers came to arrest him.
Their window cleaner later told the couple he had seen Chojnowski in the house and presumed he was their grandson.
Ms Dyson said she felt "fairly sympathetic although he did break in... but it was neatly done".