Electronic cigarette company wins latest stage of battle against EU regulations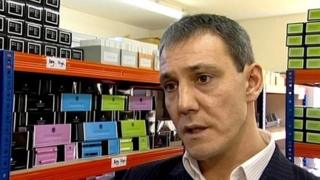 An electronic cigarette company has won the latest stage of its battle against planned new European regulations.
Blackburn-based Totally Wicked has been granted the right to challenge the EU Tobacco Products Directive (TPD), which is due to come into force in 2016.
The directive would see e-cigarettes classed as "tobacco-related products" even though they do not contain it.
At the London hearing, Mr Justice Green said the challenge could be referred to the European Court of Justice (ECJ).
Fraser Cropper, managing director of the e-cigarette company, said he took the case to court as he believes the EU regulations are "fundamentally wrong".
"We must not be seen as as company that does not believe in regulations in the sector," he said. "We do - we are a firm believer in robust, relevant and proportionate regulations.
"We don't see that in this particular directive - we see regulations which are ill-thought out, which aren't supported by evidence and which will have a counter-productive effect which is reducing the prevalence of these products which many thousands of people are finding beneficial."
The proposed regulations would ban reusable devices with high nicotine hits, limiting the amount of nicotine to levels similar to ordinary cigarettes.
Electronic cigarettes are designed to replicate smoking behaviour without the use of tobacco.
They turn nicotine and other chemicals into a vapour that is inhaled.
The hearing is expected to take place at the ECJ in Luxembourg next year.