Youths declare 'graffiti war' on council over state of Stubylee Park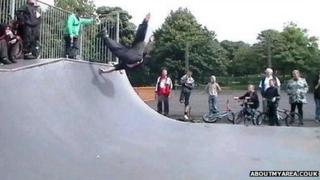 A war of words has broken out at a skate park - after teenagers sprayed graffiti accusing council officials of failing to maintain the site.
Youngsters say Stubylee Park in Bacup, Lancashire, has fallen into a state of disrepair and is no longer safe.
One graffiti message sprayed on a ramp reads: "Instead of painting over all the graffiti why don't you sort the floor out?"
Councillor Andrew McNae said a meeting has been set up with the youths.
Mr McNae, portfolio holder for regeneration at Rossendale Borough Council, said: "For quite a while now we have recognised that the state of the park is not what we have wanted it to be.
"Over the last couple of months we have been trying to bring money into the skate park. I've just heard we've got a small amount.
"But the easiest way to let people know anything that they feel we are not doing is just to give me or any other councillor a ring.
"We are hear to listen to these things, and it's a lot simpler than painting on the walls."