'No action' over homophobic leaflets in Preston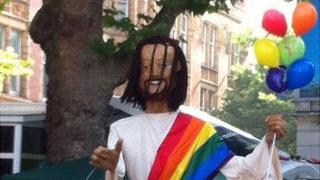 Leaflets featuring homophobic comments have been posted through doors following a gay pride festival - but police say no crime has been committed.
The flyers, which say homosexuality is immoral and "not natural", appeared following Preston Pride in Lancashire.
Festival chairman Steve Griffin said the leaflets were reported to police.
Lancashire Constabulary said it was trying to find out who delivered the leaflets so officers could speak to them.
A spokesman said: "We are aware of a number of leaflets that have been distributed, but at this stage we are satisfied that no offences have been committed, although we do recognise that some people may have found the content offensive and upsetting.
"We have completed a number of incident reports and we will continue to monitor the situation and hopefully identify the individuals responsible for delivering them with a view to discussing the impact the leaflets have had."
Mr Griffin blamed Christian "extremists" and said his events had been targeted by demonstrators in the past.
He said it was unfortunate nothing would be done, but said he accepted the police position.
"Obviously it's upsetting. I understand there are laws we need to follow, but what would happen if we went round and stood outside their church and said that religion was wrong?" Mr Griffin said.
"It's not the first time something like this has happened.
"They think the gay lifestyle is wrong. But what is interesting is they always seem to quote the Old Testament. If they quoted the New Testament, they'd see that it says 'love thy neighbour'."