Blackpool Airport 'likely to close' if no buyer found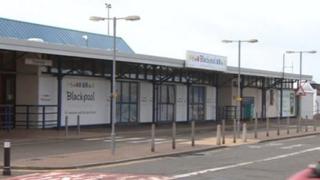 Blackpool International Airport has announced it is "likely to close" unless a buyer can be found.
A statement by the airport said if no sale agreement was reached by 7 October, the last commercial flights would take place on 15 October.
It claimed the facility has been "making a loss for a number of years".
Balfour Beatty, which bought the site in 2008, put it up for sale a month ago to end its involvement in running regional airports.
The statement said: "On 28 August 2014, we announced our intention to find a buyer for the airport operating company.
"The airport operations have been making a loss for a number of years and we are currently exploring a number of options in an attempt to secure the future of the airport."
'Surprise to us'
When the decision to sell the site was announced, the airport said it was "business as usual" and flights would continue.
But the latest statement said: "We regretfully confirm that if no agreement can be reached before 7 October 2014 which ensures the viability of its operations, then it is likely that the airport operations will close.
"In this event, we expect that the last commercial flights will take place on Wednesday, 15 October 2014."
The airport apologised and advised any affected passengers to contact their airline to confirm travel arrangements.
About 110 staff are employed at the airport, which served some 235,000 passengers last year.
---
The Independent's travel editor Simon Calder told BBC North West Tonight he believed the airport "is simply not yielding the kind of returns that any airport operator needs to stay making a sensible business".
"Unfortunately once you announce something like this the business takes a turn for the worse.
"I can't see many people booking flights from Blackpool in the hope it will be operating from October onwards, so I'm afraid my sad prophecy is that it will close."
---
A Balfour Beatty spokesman said: "Balfour Beatty can confirm that Blackpool Airport is exploring a number of options to secure a viable future for the continuation of operations.
"We regret to advise that if no agreements can be reached to achieve this, then it is likely that the airport operation will close on 16 October 2014."
A spokesman for airline Jet2.com, which flies from Blackpool, said the announcement had "come as a surprise to us".
He said that if the airport closes "contingency plans will be in place and we will do everything we can to support both our loyal staff and customers".
A spokesman for Citywing, which operates flights to the Isle of Man and Belfast from Blackpool, said the airline "understands that the position is fluid" but the company would "remain positive for future operations to Blackpool".