Heysham caravan park death: Man, 45, charged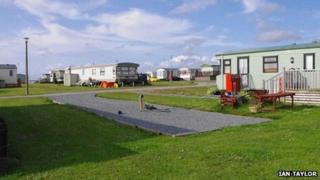 A man has been charged with attempted murder after the death of a man hit by a car at a Lancashire caravan park.
Lancashire Police said Paul Clark, 42, died after being knocked down near the entrance to the Ocean Edge Leisure Park in Heysham on 20 September.
William O'Mara, 45, of Norland Drive, Morecambe, has also been charged with wounding, grievous bodily harm and assaulting a police officer.
He is due before Preston Crown Court on 6 October.
Mr Clark suffered serious head injuries in the incident and died at the Royal Preston Hospital on Saturday.
Mr O'Mara faces four counts of attempted murder as it is alleged that he drove a car at four pedestrians.
One of them, a 53-year-old man walking his dog, suffered minor injuries as he was struck by a car at Half Moon Bay.
Mr O'Mara also faces two counts of grievous bodily harm for allegedly driving at a Peugeot 207 with two people inside causing a head-on crash.
Earlier that evening, police say a 32-year-old woman was also assaulted with a bottle.