Lancashire BAE Systems management jobs at risk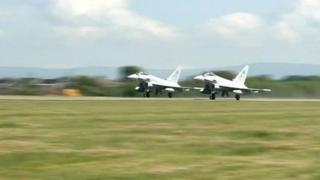 Up to 500 management jobs are at risk at BAE Systems in Lancashire, the BBC understands.
The defence giant employs more than 11,000 people in the county, with 2,000 managers at its plants in Warton and Samlesbury.
A committee set up to review management structures is due to report back in October.
BAE Systems said it continually reviewed operations to stay competitive in a "global defence market".
It is understood a consultation period with staff is expected to take place.
BAE Systems' Lancashire engineers manufacture the parts for F-35 Lightning 2, Eurofighter Typhoon, Tornado and Hawk aircraft.
A spokesman said: "To achieve a profitable and sustainable long-term business, success in the market is essential and we need to ensure we are in the best possible position to secure those opportunities.
"As always, should any issues arise that directly affect our employees then our policy is to communicate with our employees first through the normal channels."