Woman stabbed with pen in Blackpool coach attack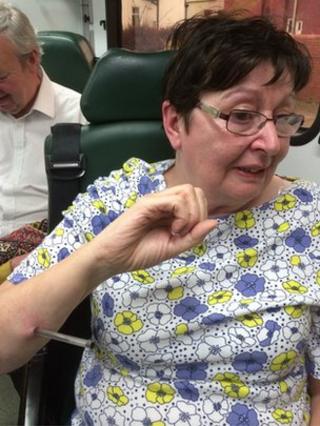 A woman was stabbed in the arm with a pen while trying to stop a man tampering with a coach in Blackpool.
Cynthia Bell, from Durham, was attacked while on her husband's coach on Seasiders Way on 24 August.
Police said a man climbed on to the coach and stabbed Mrs Bell after she stopped him trying to change the controls around the driver's seat.
Det Sgt Mark Dickinson said the 66-year-old was "lucky to have escaped without serious blood loss".
He said her attacker had used "significant force" to stab her with the pen.
The man, who ran off towards Chapel Street, was described as being in his late teens, white, about 6ft (1.8m) tall and of stocky build.
Police said he was with two women, one who walked with a limp and another who had blonde hair and a tattoo on her stomach.