Lancashire knife amnesty: Swords and machetes handed to police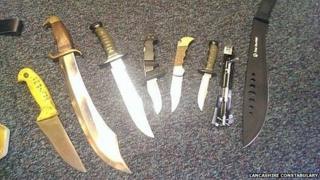 Swords, machetes and knives were among 145 weapons handed to police during the first week of a Lancashire amnesty.
Other items included a weapon made from razor blades screwed together and a knife from World War One.
Lancashire Constabulary said the most weapons were given to police in Preston, where 50 were handed in.
Det Insp Warren Atkinson said it was "frightening to think what could have happened" had the blades not been given up by their owners.
He said the "number and type of knives which have been handed in since we launched the amnesty justifies why we have taken the decision to do it".
The knife amnesty, which has seen bins placed outside 10 police stations, runs until 29 September.