Ban on anti-fracking camp at Cuadrilla's Little Plumpton site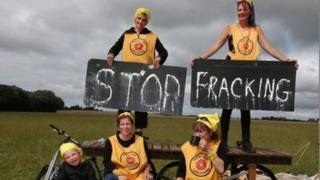 A court has issued a temporary ban on anti-fracking protestors occupying land in Lancashire.
Campaigners had been camped on farmland in Little Plumpton close to a site where energy firm Cuadrilla has applied to drill for shale gas.
Landowners had their claim for possession against trespassers, some of whom have been there since 7 August, upheld at Manchester High Court.
Protester Tina Rothery said they did not know they were not welcome there.
Food gifts
Ms Rothery, of Residents Against Fylde Fracking, said: "We were told the farmer hadn't willingly let his land - it had been compulsory purchased - so we didn't know he didn't want us there.
"The farmer said he was compulsory purchased. All of his neighbours brought us food and provisions and ice every day."
However, Cuadrilla said it had an option to lease the land from the owner should planning permission be granted.
Cuadrilla has applied to Lancashire County Council to hydraulically fracture for shale gas at the Preston New Road site in Little Plumpton and also at its Roseacre site.
The firm's chief executive Francis Egan said: "We welcome the judge's verdict to uphold the claim against illegal trespass on local farmland and we were pleased to support the landowners in these legal proceedings.
"We hope the court's ruling will help deter this kind of unlawful behaviour in the future which has already had a detrimental impact on a local farmer's business."
The court also imposed an interim injunction which prevents any occupation near Cuadrilla's proposed shale gas sites.
The case returns to court in October.