Blackpool attempts giant beach ball world record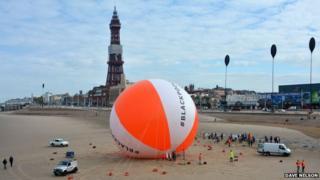 Blackpool has attempted to bounce into the record books by inflating a giant replica beach ball on its golden sands.
The ball, 59ft (18m) in diameter, was measured by independent adjudicators when it reached its full size.
The details will be submitted to Guinness World Records. The current record stands at 51ft 10in (15.82m) and is held by Real in Poland.
It was part of Visit Blackpool and Merlin Entertainments' campaign to remind families about resort.
---
Blackpool's giant beach-ball:
Took nine men 90 minutes to inflate
Once inflated was 59ft (18m) in diameter, about the height of two houses
Weighed about 882lb (400kg) when deflated, about the weight of a donkey
Would bounce about 115ft (35m) if it was dropped from the top of Blackpool Tower, organisers claim
---
Merlin Entertainments, which runs attractions such as Blackpool Tower, Madame Tussauds, and Visit Blackpool launched #BlackpoolsBack to remind visitors about its attractions, beach and illuminations to boost tourism.
Graham Cain, Blackpool Council's cabinet member for tourism and leisure, said: "We've gone through years of regeneration and we're now at a point where we can be very proud of the holiday area we have to offer. "