Cuadrilla fracking protest camp set up in Little Plumpton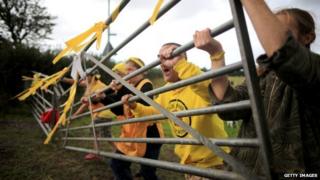 Anti-fracking campaigners have set up a protest camp on a field near a proposed drilling site in Lancashire.
About 100 members of Reclaim the Power are on the site in Little Plumpton near Blackpool to "support community resistance to fracking".
Cuadrilla has applied to the county council to hydraulically fracture for shale gas at the Preston New Road site and also at its Roseacre site.
The energy firm said the landowner was taking legal action over trespassing.
'No justification'
Reclaim the Power has joined a small group of mothers and grandmothers who moved on to the land last week.
In August last year, Cuadrilla suspended its drilling in Balcombe, West Sussex after the group set up a camp there.
Reclaim the Power said it was "responding to a call for support from Lancashire residents who are taking action against fracking".
The group's Hannah Jones said: "We cannot afford drilling for any new fossil fuels if our children are to have a chance for a safe climate and sustainable future.
"Gas will only make the climate more unstable, energy companies richer and the rest of us poorer. We need affordable, democratically controlled, renewable energy."
Cuadrilla said: "Following Thursday's trespass on a local farmer's field which is separate from our proposed exploration site on Preston New Road, the landowner instructed lawyers to commence legal proceedings to recover possession of his land."
It said Lancashire County Council's consultations over its planning applications would be "a thorough, transparent and democratic process which gives people ample opportunity to make their views known to the decision-makers in the county council".
It added there was "no justification" for the occupation of the farmland.
The landowner did not want to comment to the BBC on the protest.
The National Farmers' Union said trespassing on farmland was a "nuisance" to the farmer, who was "an innocent bystander", was potentially dangerous to cattle and "cannot be condoned under any circumstances".