Man is rescued from flooded car at Sunderland Point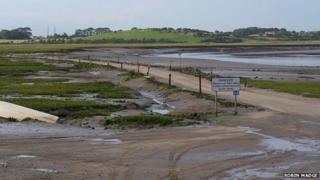 A man has been rescued after becoming trapped by rising water in his car on the north Lancashire coast.
The car was surrounded by the incoming tide on the causeway between Overton and Sunderland Point at about midday.
Lifeboat crews said the car was almost full of water and they had to smash the window to free the man, who was then taken to the Royal Lancaster Infirmary.
Graham Parr from Liverpool Coastguard, said the water "floods in at an incredibly fast pace".
"We always recommend that people check tide times before setting out for any activity on the coast, particularly if you plan to drive over a causeway," he said.
"During high water, it's likely the road will be covered with water and with it strong undercurrents."