Man with inoperable cancer completes fifth marathon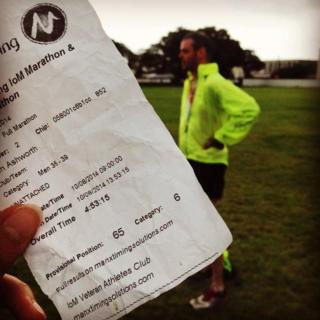 A man who has inoperable cancer has completed the fifth out of six marathons he aims to finish in the space of six months.
Ben Ashworth, 35, of Preston, finished the Isle of Man marathon in Ramsey in four hours 53 minutes and 15 seconds.
He began the challenge in April in Blackpool and has competed at events in Wakefield, Windermere and Northampton.
The Ramsey Marathon, on Mooragh Promenade on Sunday, was his fifth - he has one to go, in Berlin, next month.
Mr Ashworth, who is undergoing chemotherapy, is raising money for several cancer charities.
He said: "Being a young patient, I want to show my daughters that my positive spirit has endured, that I haven't merely succumbed to cancer and I won't let illness get in the way of living my life and realising my dreams."
Mr Ashworth was diagnosed with bowel cancer in 2012 and has already raised more than £9,000 for charity - his sixth marathon is scheduled for 28 September in Berlin.
"I have learned first-hand the importance of charity work and really want to give something back while I can," he said.