Four roseate cockatoos missing from Blackpool Zoo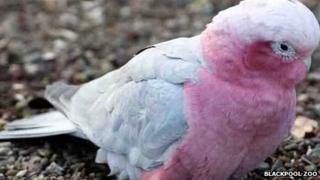 Four roseate cockatoos are missing from Blackpool Zoo after they flew away when they were "frightened" by gulls.
The cockatoos, described as "quite self-sufficient", flew off from the display arena earlier this week.
The RSPCA and police have been notified about the missing birds, which are a similar size to a medium-sized parrot.
The zoo's head keeper Luke Minns said: "We hoped that the cockatoos would have come back to the zoo for food by now."
On Facebook, Blackpool Zoo posted: "Our four Roseate cockatoos from the display arena were frightened by seagulls a few days ago and flew away."
Mr Minns appealed for the public's to help "find and safely return the cockatoos to their home".
"We still remain hopeful that by [them] staying together and their distinct features, the public will be able to recognise the cockatoos," he said.