Preston Marina common terns enjoy 'most successful season'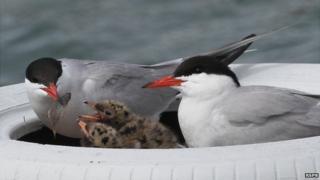 A project aimed at improving breeding conditions for sea birds at a marina is "enjoying its most successful season ever", the RSPB has said.
The Preston Marina scheme aims to help common terns that nest in the area.
Around 140 pairs of common terns have nested this year, producing 135 chicks, which a spokesman said was "roughly a 30% increase in productivity".
The project, which began in 2009, uses tyres and gravel to compensate for a lack of nesting material.
The spokesman said the project had seen the local population of the birds increase every year, which was helping to stem a decline in numbers nationally.
"Ironically, common terns are not especially common," he said.
"In fact, they have been in decline for several decades, probably resulting from reduced availability of sand eels, their staple food."
---
Common terns
Common terns are identified by their long pointed wings, forked tails, black caps and black-tipped red bills
They are smaller than gulls but are faster and more agile
They spend the winter in South Africa but return to the UK to breed
Source: RSPB
---
He said two pairs of Arctic terns had also fledged a chick at the marina, which was the first time that species had bred successfully in the area for many years.
He said the charity had opened a viewpoint at the marina to celebrate the success of the project and allow the public to "watch these impressive birds".