Two Amur tiger cubs meet the public at Blackpool Zoo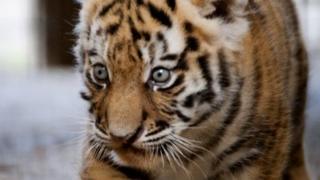 Endangered Amur tigers born at Blackpool Zoo have been seen by the public for the first time.
The two males, born in June, are the first Amur tigers to be born in the zoo in 18 years.
Blackpool Zoo said the as yet unnamed pair will "play a vital part in the species' breeding programme".
A spokesman said: "We prepared a cubbing den and keepers were over the moon to find two tiny cubs feeding from mum when they arrived at work."
The zoo's Big Cat House was closed for five weeks to allow the cubs to bond with their mother, but has now partially reopened.
According to the World Wildlife Fund, there are fewer than 450 Amur tigers left in the wild in its native habitat of eastern Russia.