MH17 plane crash: Glenn Thomas' twin 'no thoughts' on perpetrators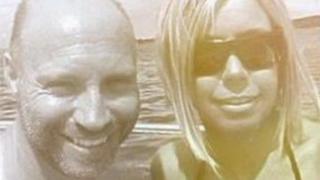 The twin sister of a British man killed in the MH17 plane crash said she does not have any feelings towards the people who caused it.
Glenn Thomas, 49, was one of 298 people killed when the Malaysia Airlines flight was reportedly shot down by a missile in Ukraine on Thursday.
His twin Tracey Withers said: "My brother was just on that flight and it was very unfortunate."
She said she wanted to remain positive and not get "bitter or twisted".
Mr Thomas, who was originally from Blackpool and worked as a media officer for the World Health Organisation, was travelling to Australia for a conference when the plane crashed.
Mrs Withers said she did not have any thoughts on whoever was responsible for her brother's death.
"I'm trying to not get too involved in how I feel about what they've done because I don't want it to eat me up inside," she said.
"I just want to grieve and carry on the way my brother would want our family to carry on as he was such a big personality."
She said: "We recently lost our father and we kept very positive about that so I know he would want us to keep positive."
She added her brother's partner was "feeling very lost" and "in total disbelief".
Her family are planning to fly out to Geneva on Wednesday to give him some support.
The Boeing 777 came down in rebel-held territory near the eastern village of Grabove in Ukraine.
A train carrying the remains of most of the victims of the Malaysian airliner has arrived in the city of Kharkiv, outside rebel territory.