Chorley Council bids to become unitary authority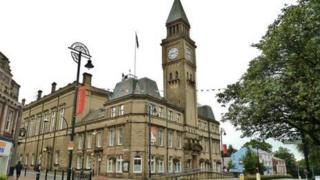 Chorley Council has announced plans to become a unitary authority to "deliver services more effectively".
The borough council has held talks with Local Government Secretary Eric Pickles about the move and proposals for a referendum are under way.
Under the current two-tier structure, Lancashire County Council (LCC) runs 85% of services, including schools, highways and social services.
LCC said given the size of Chorley, it doubted it would be financially viable.
'Critical financial position'
The leader of the Labour-run borough council Alistair Bradley said: "We often find ourselves thwarted by not being in control of all local services which would help improve the local area."
Peter Wilson, deputy leader, said: "With a unitary authority we can deliver local services for local people more effectively.
"We can't carry on with the present system."
Chorley's Labour MP Lindsay Hoyle said: "Many others councils have broken away from the two-tier system and have been successful in providing quality local services. I think we can do the same in Chorley and would welcome a public debate and vote on this issue."
In Lancashire, Blackburn with Darwen Council and Blackpool Council are established unitary authorities.
Chorley Borough Council has about 350 staff and would require government approval for the move.
Labour county council leader Jenny Mein said much larger authorities than Chorley had become unitary councils and now found themselves "in a critical financial position."
She said: "Government financing is increasingly based on efficient economies of scale and the ability to work across larger areas.
"Any transition to a smaller authority is likely to disadvantage Chorley in this respect and result in local residents paying more for less."
The county council delivers most of the services for non-unitary authorities, with district and borough councils responsible for services such as waste collection, leisure and housing issues.
No date has been set for a referendum but if it is successful the vote will be presented to the government.