Brun Valley Forest Park bridge opens for walkers and cyclists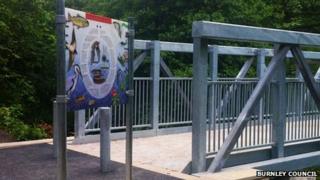 A £81,000 foot, cycle and horse bridge has been opened in a forest park in Lancashire.
The bridge, in Brun Valley Forest Park in Burnley, links Netherwood Road and Rowley Lake.
The park is built on a former coal mine and council tip.
Burnley Council and Lancashire County Council have funded the bridge, with grants from the Lancashire Environment Fund, River Ribble Trust and the Forestry Commission.
Marcus Johnstone, from Lancashire County Council, said the new bridge provides an easy route from the town centre to Rowley Lake.
"The Brun Valley Forest Park provides opportunities for Burnley people to enjoy nature on their doorstep and exercise at the same time, which is good for their health and wellbeing," he said.