Malaysia Airlines crash: WHO confirms Glenn Thomas killed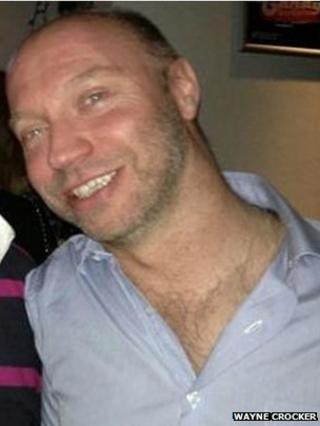 A British man who was among the 298 people who were killed when Malaysia Airlines flight MH17 crashed in Ukraine has been named.
Glenn Thomas, who was originally from Blackpool, was a media officer for the World Health Organization in Geneva.
The 49-year-old, who had been living in Scotland, is one of nine Britons who are thought to have died the crash.
WHO spokeswoman Fadela Chaib said they had lost "a wonderful person and a great professional".
She said that staff at the WHO "are all in shock. Our hearts are broken".
The former BBC journalist was one of up to 100 passengers on the flight from Amsterdam to Kuala Lumpar who were on their way to an Aids conference in Australia.
A minute's silence in tribute to Mr Thomas was held at a United Nations press briefing in Geneva, where a WHO spokesman said he would be "remembered for his ready laugh and his passion for public health".
He said Mr Thomas "leaves behind his partner Claudio and his twin sister Tracey, [who] says he died doing what he loved".
Richard Porter, controller of BBC World News in English, said Mr Thomas's death was "a terrible tragedy and our hearts go out to Glenn's family".
"He was a much loved and respected colleague and the BBC World News team are reeling from this very sad news about their friend.
"He was always passionate about telling the stories that mattered and could always turn his hand to whatever was asked - but most importantly he was a genuinely nice man."
'Very inquisitive'
Wayne Crocker, who went to Bangor University with Mr Thomas in the late 1980s, said he was "highly intelligent, with a really good sense of humour".
"He had a real aptitude for finding out about human existence [and] was very inquisitive, which is why he wanted to enter journalism."
A spokesman for the university, where Mr Thomas studied economics, said staff were "saddened to learn" about his death and that the "thoughts of all are with his family and friends".
Steve Mannion, who was a close friend of Mr Thomas, said that "although his horizons had broadened, he always remained passionate about his Blackpool roots and always saw the town as his home.
"His warmth and energy will be much missed by family and a wide network of friends."
Colleagues and friends also paid tribute to Mr Thomas on Twitter, writing that they were "horrified" and "absolutely devastated" by the news of his death.