Dolphinholme villagers connect to superfast broadband themselves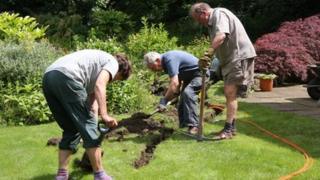 A north Lancashire village has superfast broadband after volunteers laid their own cables.
The Dolphinholme B4RN Action Group from Dolphinholme, Lancaster dug trenches in fields, laid cables and connected houses one by one.
The group said the village now boosts one of the fastest broadband in the UK with speeds of up to 1,000 megabit (one gigabit) per second.
Allen Norris, head of the group, said it was "life changing" to the village.
'Now takes seconds'
"Despite its proximity to Lancaster, Dolphinholme is really quite a remote place, so it's no exaggeration to say that having hyper speed broadband is a life changing event," said Mr Norris.
"Previously, we were getting speeds of around one megabit meaning it could take six or seven hours to download a simple smartphone software update and minutes to load a webpage.
"Now it takes seconds."
He added: "Daily activities that many people take for granted, like working remotely or use smart TVs, are only now a reality for residents in Dolphinholme."
Volunteer Liz Collinson said it was tough but they have managed to have fun while they were digging.
She said: "It's been very, very hard especially in the winter when it was very muddy and you were up to your knees and trying to dig and you couldn't get the mud off your spade."
Superfast broadband is defined by the European Union as broadband with speeds of 24Mbps (megabits per second) or above.
A survey conducted by insurance firm NFU Mutual in March suggested one in five rural families have poor broadband links and families said it was affecting their children's education.