Hargher Clough Recreation Ground to get £60k makeover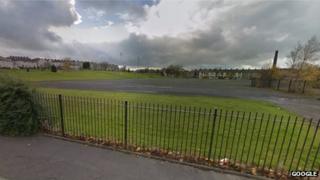 A stretch of land in Burnley is to be transformed into a games area in a bid to reduce anti-social behaviour.
Hargher Clough Recreation Ground has been neglected in recent years and been a haven for travellers' caravans.
Now a £60,000 project will see the site redeveloped to cater for sports including football and cricket.
A toddlers' play area will also be created at Stoops and Hargher Clough Community Centre.
Work began this week on the project, which is being led by the Proffitts - Investing in Communities group.
Funding has come from the Lancashire Environment Fund - which awarded a grant of £30,000 - and The Veolia Environmental Trust, which gave £24,000.
Both grants were awarded through the Landfill Communities Fund.
Social landlord Calico also donated £10,000.