Petrol leaks into brook from filling station in Haslingden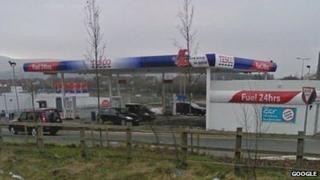 Fuel from a petrol station has leaked into a stream in Lancashire.
Tesco said it became aware of the underground spillage of unleaded petrol at its filling station in Haslingden into nearby Langwood Brook on Thursday.
The company said there was "no immediate danger to the public".
The Environment Agency (EA) is part of the multi-agency response and said it was monitoring watercourses and groundwater but the impact appeared to be "limited".
The supermarket said it was alerted to the spillage by its systems and reports of a smell of fuel from residents nearby.
The petrol station was shut immediately and remains closed while the clean-up continues. The main shopping store has remained open.
The EA said: "The leak was swiftly stopped and we continue to monitor the impact to local watercourses and groundwater.
"At this stage, the impact appears to be limited."
Langwood Brook is a tributary to the River Irwell.