Hundreds at RAF war hero funeral after appeal for mourners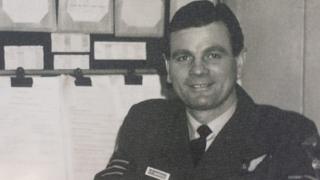 Hundreds of mourners have attended the funeral of a World War Two hero following an appeal by an undertaker.
Rear Gunner Sidney Marshall died aged 90 at his home in Caryl Road, St Annes, on 16 June but had few relatives to attend his funeral.
Mourners at the service at Lytham Crematorium included members of the RAF and British Legion.
He earned a Distinguished Flying Medal after his Lancaster Bomber survived an attack from German fighters in 1944.
Bill Marshall, 85, from Doncaster, who also served in the RAF, gave the eulogy for his elder brother, a "private" man, he said, who rarely talked of his wartime exploits.
He said his brother would have been "flabbergasted" by the turnout.
"We just expected a few RAF here. We didn't expect half of Blackpool to turn up."