Satellite tags track Bowland hen harriers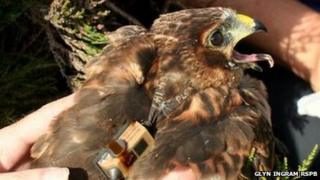 Hen harrier chicks in Lancashire have been fitted with a tracking device to help save them from extinction.
Satellite tags have been fitted to the four-week old chicks, the first to be born in England since 2012, in the Forest of Bowland.
The Royal Society for the Protection of Birds (RSPB) initiative is designed to find out more about the endangered birds of prey and help recover numbers.
England has only three breeding pairs left and two are in Bowland.
'Bit of luck'
The RSPB said chicks recently produced in a second nest on the Bowland estate and at an another site, which the charity said it would not disclose for fear of persecution, will also be fitted with tags when they are big enough.
Natural England's Stephen Murphy, who fitted the devices, said: "This is where technology can really aid conservation as there is no better way of gaining an insight into the complex dispersal of these iconic birds."
Jude Lane, the RSPB's Bowland project officer, said: "Once the birds have fledged, we will be able to follow them and gain valuable information about where they hunt, roost and, with a bit of luck, breed.
"The more we can learn about these amazing birds, the more we can do to help their numbers recover."
The wildlife charity said the tags would help provide evidence of any illegal activity against the birds.
The RSPB have claimed the birds are close to being wiped out in England in areas used for grouse shooting.
Hen harriers have been shot, poisoned and had their nests destroyed because the harrier is a natural predator of the red grouse, the charity said.