Preston Guild Hall sold to businessman Simon Rigby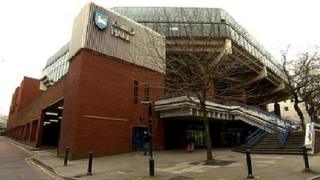 The Guild Hall and Charter Theatre complex in central Lancashire has been sold to a Preston businessman, as the city council looks to save money.
Simon Rigby, who runs catering and entertainment businesses, paid an undisclosed amount for the venue.
Council leader Peter Rankin said without the sale, the complex would have had to close as it can no longer afford the £1m a year it costs to run.
Mr Rigby promised a new restaurant and hub for start-up businesses.
The 20 staff who work at the Guild Hall will continue to be employed by Mr Rigby.
The entrepreneur has pledged to invest £1m on his initial plans for the venue which also include an improved range of live shows, new banqueting and conference facilities, and a coffee shop.
He said the 2,000-capacity building "oozes potential" and he also wanted to provide community use of the building.
"We are flexible and we will see to it that nobody with clear budget issues for putting on a community event at the Guild Hall is turned away," he said.
Preston City Council, who approved the sale at a cabinet meeting on Friday, has to save more than £3.6m over the next three years as part of budget cuts.
Last year Mr Rigby offered to buy Preston's bus station but his offer was rejected.
The Guild Hall opened in 1972 and, during the 1970s and 1980s, some of the biggest names in rock, including Led Zeppelin, David Bowie and Queen played its Grand Hall, which was once the regular host of the UK Snooker Championships.