St Annes RAF war hero Sidney Marshall funeral plea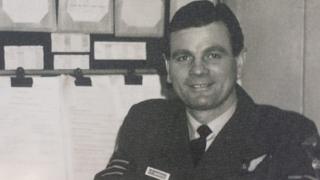 A plea for mourners to attend the funeral of a former RAF serviceman who took part in the D-Day landings has received an enthusiastic response.
Rear Gunner Sidney Marshall earned a Distinguished Flying Medal after his Lancaster Bomber survived an attack from German fighters in 1944.
He died, aged 90, at his home in Caryl Road, St Annes, on 16 June, but has few relatives to attend his funeral.
Undertaker Eddie Jacobs is now hoping people will come to pay their respects.
The RAF has promised to send a contingent to the service.
The plea, which has also featured on Twitter, has echoes of last year's funeral for Dambusters veteran Harold Jellicoe Percival which was attended by hundreds after a campaign from the RAF.
'Say thank you'
Mr Jacobs, of funeral directors RL Whitehead and Daughter, said: "At the outset there were only going to be a few people coming until the brother got to hear of it and he said that Sidney deserved a better send off for what he had done.
"9 Squadron, who are in Afghanistan, picked up the story, and they'll be sending a contingent to the funeral.
"I've had a call from a head teacher at a school in Blackpool and he wants to bring 15 pupils along. I think people just want to say thank you for all that he did."
Mr Marshall served in 9 Squadron and completed 28 sorties into Germany under heavy fire.
He was decorated for helping to guide his Lancaster to safety following a raid on Bergen, when the plane was attacked by Focke-Wulf fighters.
The bomber's guns were paralysed, but Mr Marshall managed to communicate with the pilot via radio, helping him dodge further fire.
Mr Jacobs said: "He was a lovely quiet man. I met him when his wife died and all this only came out after he died and it gives a different look to his life."
The service will be held at Lytham Park Crematorium on 4 July.