Thwaites to leave Blackburn for Ribble Valley to expand range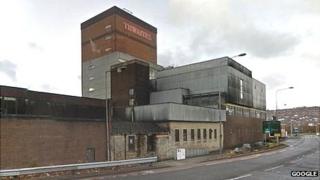 One of Lancashire's oldest breweries is to relocate for the first time in 200 years to allow it to "brew a full range of ales", its chief executive has said.
Daniel Thwaites' move from Blackburn to the Ribble Valley marks the end of a two-year search for a new site.
CEO Richard Bailey said the larger site, which will house the brewery and its head office, would also incorporate a visitor centre.
He said no decision over the future of the Blackburn site had been made.
The brewery, which opened in the town in 1807, had a plan to build a supermarket on the existing site turned down.
Mr Bailey said the site presented an "exciting opportunity for redevelopment".
'New, interesting beers'
He said the new site, off the A59 at Mellor Brook, would "allow us to brew a full range of our cask, seasonal and craft ales and allow our brewers to be completely focused on the quality and consistency of our beers".
"We remain committed to safeguarding our brewing heritage, and newer equipment will help our team to continue to brew our old friends, but also to develop new and interesting beers."
The company hopes to begin work on the new site in 2015.
Mr Bailey said it had been important to "stay close to Blackburn" to safeguard jobs in the area.
"I am very pleased that we have been able to find a site that is only a few miles away, where we will continue to employ over 200 people."
He added that a distribution team of 120 would remain in Blackburn "for the foreseeable future".
The company is famous for its traditional Shire horse drawn wagons, which feature in an artwork on the side of the existing site.
In 1985, the dray horses were awarded freedom of Blackburn.