'Hazardous' derelict hotels on Blackpool Promenade secured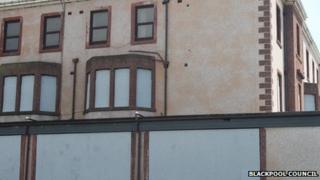 Derelict hotels on Blackpool promenade that were used by squatters and blighted with fly-tipping have been cleared and made secure.
Building inspections by Blackpool Council and the fire service found the hotels on the south end could be a "significant public hazard".
The council said the hotels have been empty for more than a year.
It has boarded up the buildings to stop "further deterioration" while court action is taken against the owners.
Councillor Gillian Campbell, cabinet member for public safety, said: "This is incredibly frustrating for all concerned and this type of situation can be a significant public safety hazard as well as creating eyesores.
"Blackpool Council has been taking proactive action to try to tackle these problems for some years now through the courts in the form of planning enforcement action but that can be a frustratingly slow process."