Burnley primary school pupils suffer electric shocks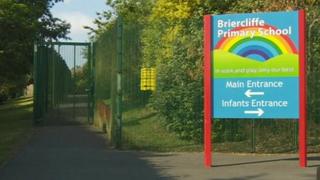 Ten children and a teacher have suffered electric shocks at a Lancashire primary school.
North West Ambulance Service was called to Briercliffe County Primary School, Burnley, at about 13:00 BST.
The children, all aged between seven and eleven, suffered minor injuries. Four were taken to Royal Blackburn Hospital, with others treated on site.
The teacher also went to hospital after sustaining burns to the hands and forearms.
It is understood some children suffered shocks from door handles. Power had recently been returned to the school after it was cut-off.
'Children crying'
Rob Blanchet, the school's headteacher, said it was "too early to say exactly what happened".
He said: "The cause of the problem is currently being investigated by the electricity company.
"The school is closed at the moment until the site has been made safe. As things stand, we don't know whether we will be able to open the school tomorrow."
Richard Haworth, a father of a pupil at the school, said his son had heard "a few children crying", but there was no panic.
Mr Haworth said: "My son said, 'we were told not to touch any metal anywhere'."