Samlesbury solar farm plan unveiled by BAE systems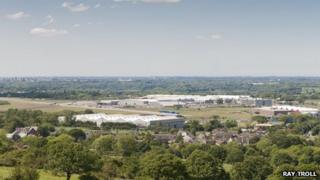 Plans for a solar farm in Lancashire the size of nine football pitches have been announced.
BAE Systems is proposing to install 10,000 solar panels at its military aircraft manufacturing site in Samlesbury.
The company said the panels covering 13 acres would generate about 25% of the site's electricity needs.
If South Ribble Borough Council approves the plans, installation could begin in September, a spokesman said.
BAE Systems' Samlesbury site manufactures the parts for the new F-35 and the Typhoon jets.
The 8ft (2.5m) high solar panels would be located on part of the site which includes a portion of the old runway and would be partially screened by woodland, the company said.
They would generate two megawatts of peak electrical output, equivalent to the power usage of 11,500 homes, their statement claimed.
The government has unveiled proposals to limit the subsidies paid to large solar farms from next April.
Owners of installations bigger than five megawatts will have to compete with other renewable forms of energy for financing.