Lancashire League cricketers leave pitch to chase thief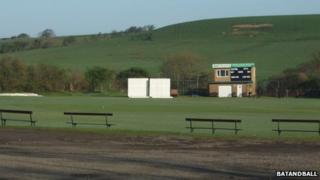 Rival cricket teams left a top-of-the table clash to chase a thief seen raiding the changing rooms.
Players in their whites chased the man through fields and woods after he was seen with a Lancashire League team's mobile phones.
The thief was tracked down by the Church and Oswaldtwistle and Haslingden teams on Sunday, using a phone app.
Samuel Stanley, 29, of Doncaster, was jailed for three months on Monday by Blackburn magistrates.
He indicated a guilty plea to magistrates to stealing six phones worth £3,050 from the changing room.
'Alarm bells'
Church and Oswaldtwistle wicketkeeper Sam Tucker was about to go in to bat when he saw Stanley.
"I spotted this individual and he was in and out the changing rooms.
"The alarm bells started to ring and when he started to make an exit I went after him.
"It was a packed ground so all the supporters were wondering where the next batter was hurtling off to," he said.
"I alerted the rest of the opposition team, who followed me out of the ground and we started a major manhunt through the fields.
"We lost him quite quickly, but one of the opposition players had GPS tracking technology on his phone so we managed to track one of the phones so we knew we were near him.
"Eventually we spotted him and then as a pack we all went for him."
Mr Tucker still had his helmet on and his bat in his hand during the chase.
"We managed to get on top of him. We were all knackered though," he said.
Play later resumed and Haslingden, who were second in the table behind Church and Oswaldtwistle, won the match.