Blackpool 'death risk' hotel manager jailed for 18 months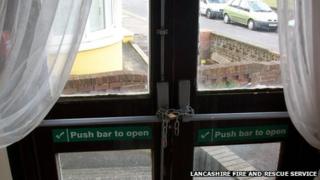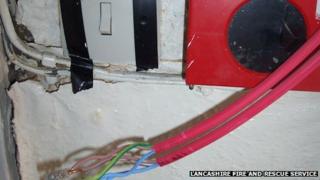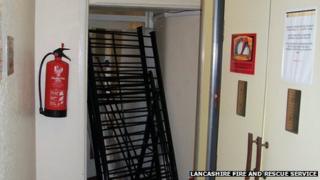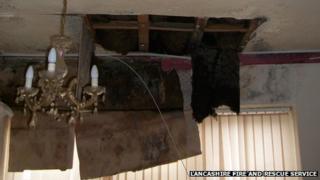 The owner of a hotel where firefighters found a chained fire exit and blocked escape routes showed a "callous disregard" for safety, a judge said.
Peter Metcalf, who owned the Kimberley Hotel, Blackpool, was convicted of 15 fire regulation offences in May.
Metcalf, 51, was sentenced to 18 months in jail for each offence to run concurrently.
The hotel was the venue for several BNP conferences in the seaside resort.
A fire service inspection in March last year found a fire exit chained shut, exit routes blocked and faulty wiring.
Metcalf, who had denied all charges at Preston Crown Court, was not represented in court and declined to comment when asked if he had anything to say before sentencing.
Joseph Hart, prosecuting, said locals thought the hotel was shut when in fact Metcalf had four tenants paying £50 a week to stay in the 90 bedroom hotel.
Mr Justice Russell QC told Metcalf, "you showed a callous disregard for people's safety".
Inadequate fire safety measures and management at the 90-bed hotel "could have led to serious injury or loss of life", Lancashire Fire and Rescue Service said.
The service said after the inspection it had "no option" but to prohibit the use of the hotel and begin a prosecution.