Rossall School discovers ex-pupils' letters from the front line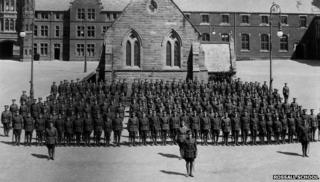 A cache of forgotten letters written by World War One soldiers has been discovered at the Lancashire school they left behind - 100 years after the start of the conflict.
Hundreds of miles from home, former pupils as young as 18 took the time to pen messages to their old friends and teachers at Rossall School in Fleetwood despite the trauma of life in the trenches.
But rather than describing the horrors of the conflict, the letters offer a poignant glimpse into the minds of young men preoccupied with more light-hearted - and even humorous - matters.
Incredibly, despite coming under constant, heavy shelling, one soldier appears more concerned about the progress of his old cricket team.
"Shelling continues heavy at all times of day and night," wrote Reginald William Crummack, a captain in Flanders, the Belgian region that suffered some of the heaviest losses on the Western Front.
"But on the whole I fancy that the Hun gets more back than he gives, but that never seems any consolation when they are dropping anywhere near one!!"
Training pupils for war
The soldier continues in the 1917 letter to apologise for his "delay" in replying to a message from the school, and says he and a friend always look out for Rossall's sports results.
"Charnley and I always have a pow-wow on Rossall and how she fares, whenever we meet. We are both rather disappointed at the result of the Shrewsbury match which we saw in The Times."
Founded in 1844, the boarding school lost more than 280 former pupils during World War One.
It ran an Officer Training Corps, preparing its pupils for war with rifle practice, trench-digging on school grounds and regular marches through Fleetwood.
Hoping to offer comfort to "old boys" fighting in the conflict, pupils would send regular letters, and the soldiers would sometimes reply with messages of their own.
'Cut off from the world'
Another letter was written by Cedric G. Moore, who fought in Egypt, Gallipoli and France, and would go on to become a Lieutenant Colonel.
"As I write this we are about forty miles east of the canal, absolutely cut off from the world so hope you will excuse pencil and paper," he wrote.
"It does not seem to matter how long one has left the school. The memories are always green, and it gives me an added zest to my work, to know that the old House, this dear old school, still watches over its old boys."
Harry Lonsdale was awarded the Military Cross in 1917 after serving in France, and wrote to thank pupils for their messages of congratulations.
"Kindly convey to the Monitors of 'Anchor House' my sincere thanks for their letter of congratulations on my gaining of the Military Cross," he wrote.
But his thoughts, too, soon turn to sport: "I wish you also to give them my heartfelt congratulations on their winning the Foster Cup."
Military historian Dr Aaron William Moore is a specialist in analysing soldier's diaries, and says mentions of sport - and other superficial subjects - are to be expected in the writings of men under heavy stress.
"It doesn't surprise me at all," the University of Manchester academic said.
"One way to look at it is as a kind of escapism. Life in the trenches wasn't all about fighting and danger - sometimes it could be intensely boring. So of course their thoughts would turn to things like sport, or jokes.
"Another thing to remember is soldiers often won't bother talking about the horrors of war with people who just wouldn't understand it. They just think, 'what's the point?' You have to bear in mind the intended audience here.
"Or was it something they simply didn't have the language to describe?"
'Incredible insight'
Deputy head teacher Anton Maree discovered the letters by accident while looking through Rossall's archives for information about the school between 1914 and 1918.
"I'd found the information I was looking for and something made me have a look in the back of one of the books," he said.
"Rossall lost over 287 former pupils, with some going to the front line straight from school.
"These letters have given us an incredible insight into the thoughts and feelings of young men ready to make the ultimate sacrifice to serve their country."
Mr Maree is now studying the letters as part of a research project into life at Rossall School during the war years.