City Deal for Preston and South Ribble gets under way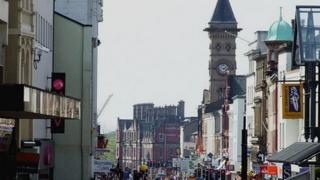 A £430m council project aiming to ease traffic congestion and build 17,000 new homes in Lancashire has begun.
The government-funded City Deal scheme will see four major roads and the new houses being built in the Preston and South Ribble areas over 10 years.
The two councils and Lancashire County Council hope the development will attract new businesses and investment, and could create up to 20,000 jobs.
Lord Heseltine launched the project as an £8m road-widening plan began.
Works have started at the Chain House Lane junction in Penwortham Way, which is a main route into Preston and is a bottleneck to the city, Lancashire County Council said.
Boost to economy
There will be new road links - including one from the M55 to BAE at Warton - as part of the City Deal.
The three councils are part of the Lancashire Enterprise Partnership, which looks to boost the local economy by working with businesses and universities.
It has created an Enterprise Zone, where business rates are reduced, planning rules are simplified and there is access to super-fast broadband to attract businesses to the area.
Lancashire County Council claims the City Deal investment could boost the local economy by an estimated £1bn, and an initial 5,000 jobs could be generated from the Enterprise Zone.
In October 2012, the government invited 20 cities and their wider areas, including Preston, to negotiate for the second wave of City Deals, which will see devolved powers in exchange for responsibility for delivering growth locally.