Lancashire Sinfonietta: Orchestra to fold due to cuts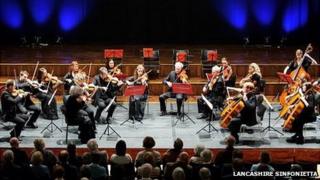 Lancashire's only professional chamber orchestra has announced it is to fold.
The Lancashire Sinfonietta said the decision followed an 80% funding cut by the county council.
In 2012, the council gave £144,000 to the orchestra. It applied for £96,500 in 2013 but was given £28,591.
Director Richard Hooper said it was a big loss as the orchestra helped nurture youngsters into music. Lancashire County Council (LCC) described the decision as "sad news".
A council spokesman said the authority was going through a period of "real austerity" and had to make £300m in savings over four years.
'Unprecedented cuts'
LCC said it had "supported the orchestra for a long time" and worked with them "over an extended period" to help it establish itself as a private company.
"This allowed Sinfonietta to bid for funding from a range of bodies, including ourselves and the Arts Council, on an equal footing with other arts organisations," said LCC.
"Whilst we continue to support the arts, the county council is facing unprecedented cuts from central government and has taken more than £200m from its budget from 2011 to 2014 and has to save a further £300m over the next four years."
Alfie Boe and Aled Jones have performed with the orchestra set up in 1996.
Mr Hooper said it would result in losing the participation of children and young people in direct music making.
He said the orchestra ensemble funded curriculums with schools, worked in children centres with under fives on Mini Mozart classes as well as in libraries.
"We are going to lose that particularly thrilling moment when you have an orchestra playing in a church or library right up close to you with no conductor."