Morecambe's 'cracking' sea defences to get £10m boost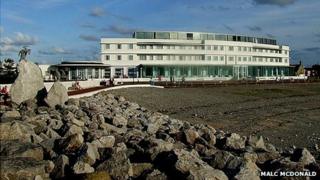 A Lancashire seaside resort is to receive nearly £10m in funding to shore up its crumbling sea defences.
Lancaster City Council said it had secured the long-term future of key sections of Morecambe's coastal defences with Environment Agency cash.
The money will pay for the reconstruction of the wave reflection wall which was installed in the 1980s.
The city council said it was showing signs of failure including "visible cracking to the concrete face".
'High priority'
The work will take place in three, 18-month phases with the first phase between Happy Mount Park and Lord Street, starting in the autumn.
Subsequent phases will cover the seafront between the Midland Hotel and Oakley Road.
Councillor Janice Hanson, cabinet member for economic regeneration and planning, said: "Maintaining Morecambe's coastal defences is clearly a high priority, not just in terms of protecting people and property but also to support the ongoing regeneration of the town."
Andy Shore, NW coastal engineer for the Environment Agency, said: "The weather we have experienced across the country over recent years highlights how important it is for communities to be prepared for flooding."