Golfer 'shocked' by two holes-in-one at Lytham Green Drive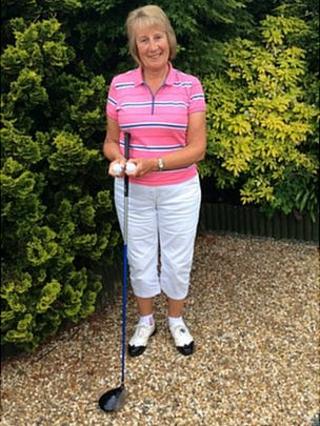 A golfer who hit two holes-in-one during a round in Lancashire said it was "a shock to the system".
Patricia Smart completed the feat on holes six and 13 at Lytham Green Drive during a Captain's Prize qualifier on Wednesday.
The 61-year-old said the holes-in-one had left her and round partner Marie Anderton "speechless".
Club secretary Ian Stewart said he was delighted as they "don't get many single holes-in-one, let alone two".
'Unbelievable'
Ms Smart said she had thought the shot on the 132 yard (120m) sixth had gone through the back of the green, but she knew the second one which she hit 141 yards (130m) over a stream, had been "a cracking shot".
However, she said that despite the holes-in-one, a couple of poor holes meant she finished the round five over par.
Mr Stewart said the club had "about three" holes-in-one last year and only two during competitions.
Ms Smart has a handicap of 11, which she said would go down following her achievement.
She said: "I've played for 18 years and hoped in my lifetime to get one but to get two was unbelievable."